WELCOME TO THE WEBSITE OF THE
FOOTHILLS CHAPTER
#301 OF SC

KOREAN WAR VETERANS ASSOCIATION INC.
****************************************************
WE NEED YOUR SUPPORT FOR THE

WALL OF REMEMBRANCE

Congress has passed legislation authorizing construction of a WALL OF REMEMBRANCE to be added to the Korean War Memorial in Washington, DC. With the stipulation that it be built with private funds and no government (taxpayer) monies can be used. This means that all funds must be raised by Veterans and the general public.

The wall will have the names of all 37,000 American servicemen and women Killed in action (KIA), and will also honor those held as (POW), and those still listed as (MIA).

The cost of the WALL OF REMEMBRANCE project is estimated to be $26, million dollars. The people of South Korea have already built a wall in Soeal Korea and have agreed to also help us.

The Foothills Chapter #301 made this a fund raising project first with an immediate goal to cover the cost of engraving the names of 55 members from Greenville County, SC. If you are a member of the family of one of those 55 you may want to consider sponsoring that name yourself. Each name will cost about $350.00, making our initial goal $20,000 dollars.

To assist other KWVA chapters in SC we continue raising funds with the goal for SC at $200,000 to cover the cost to engrave the names of all 576 comrads from the state of SC. All additional monies raised will go to the National Memorial Foundation toward the total project cost.
Make checks payable to: KWVA Foothills Chapter #301.
Earmarked, WALL OF REMEMBRANCE

Mail to: KWVA FOOTHILLS CHAPTER #301
" FUNDRAISING COMMITTEE "

Middleton Park Lane, Moore, S.C., 29369
You may also use the Donate Page below to pay via Pay-Pall

earmark your donation Wall of Remembrance.

Questions call: Lewis Vaughn,
Chairman: "Fund Raising Committee"

(864) 848-0368

Lew Perry
President, Foothills Chapter #301

(864) 363-6558, (864) 574-5569

Also go to:
www.Korean War Veterans Memorial Foundation.org

***********************************************************************

Thank You Members and Friends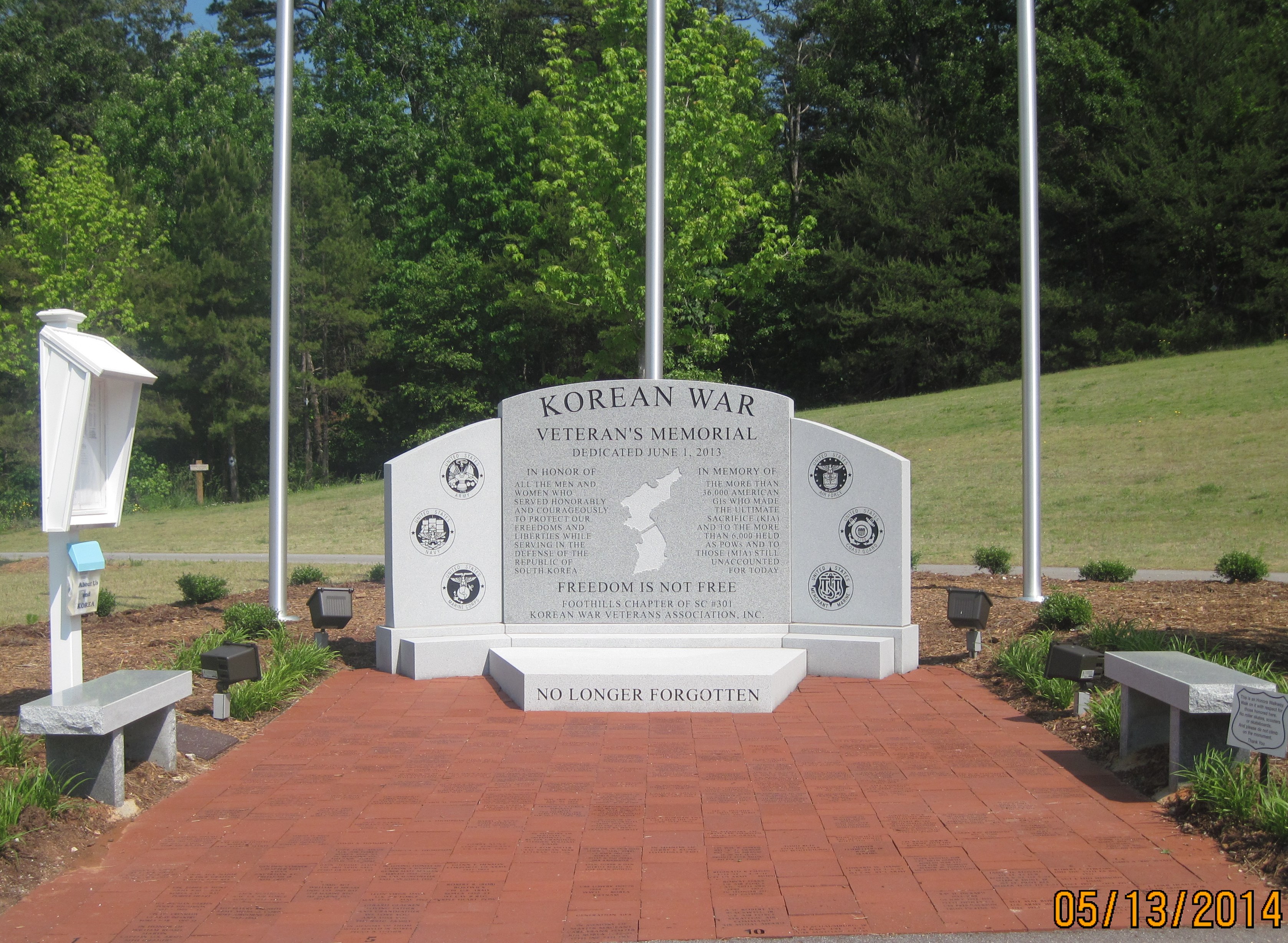 Thanks to the generosity of the people of Greenville, friends from our neighboring communities, family and friends of our chapter members and the dedication of the members of the Foothills Chapter #301 of SC who worked tirelessly on the many fundraisers.
On Saturday June 1, 2013 the Foothills Chapter #301 of SC dedicated the new Korean War Veterans Memorial in Conestee Park, 840 Mauldin Road, Greenville, SC.
You can still share in this exciting and worthwhile project.
Funds will continue to be raised for future maintainence, replacing flags etc.
If you wish to donate the cost for an engraved paver brick, for the Honors Walkway, in honor of, or in memory of, a veteran, family member or friend, call Memorial Chairman Lew Perry 864/574-5569 for a brick form by mail, or by e-mail.
To purchase with your credit card, Go to the Donate page below.

Or if you prefer we invite your support, in any amount, by mail directly to the KWVA Foothills Chapter of SC #301, PO Box 6903, Greenville, SC 29606, earmarked Memorial fund.

The Foothills Chapter of SC #301 is Chartered as a member of the National Korean War Veterans Association Inc.( KWVA), and is incorporated by the SC Secretary of State as a 501-C19 non profit organization. Your donation is always tax deductable.

**************************************************************
**************************************************************
DONATE PAGE
Thank you for choosing to donate via Pay-Pal. When you click on the DONATE button below you will be directed to the Pay-Pal site where you can use your credit card and indicate the amount of your donation.
To purchase an engraved brick for the Honors Walkway in honor of or in memory of a veteran, family member or friend select the BUY NOW button below your choice .
Engraved Honor Bricks
Single brick - Three lines,
Maximum 15 Characters each line, $ 50.00
Double brick - Six lines,
Maximum 15 Characters each line, $75.00
Type the information you want engraved on your brick including the Honorees name, branch of service, rank or rate, years of service, years in Korea. Maximum 15 characters per each line,
and send to the web site email address foothillskwva301.com.


%3